Holwood Farm Shop and Deli offers foodies a true taste of the 'Garden of England'.

Flatbread - Fig & Mint Tapenade
This homemade vegan flatbread recipe comes courtesy of our friends at Olive Branch. Served with their Chunky Tapenade with Fig and Mint, caramelised red onion, toasted hazelnuts, rocket and 'creamy' mustard dressing, they are impressive enough to serve as a dinner party starter or just a light lunch. The recipe serves four (two per person).
Ingredients
For the flatbreads:
7g sachet of fast acting dried yeast
1/2 tsp salt
1/2 tsp sugar
125ml oat or soy milk, warmed
60ml soy yoghurt
1 tbsp melted dairy free spread
225g strong white bread flour
1 tbsp of melted dairy free spread mixed with 1 tbsp of Olive Branch extra virgin olive oil, to brush the dough
For the topping:
2 red onions sliced
2 tbsp Olive Branch extra virgin olive oil
1 tsp soft brown sugar
1 tbsp dairy free spread
50g blanched hazelnuts
100g rocket
60ml soy yoghurt
1 tbsp dijon mustard
salt and pepper
To make the flatbreads:
Add the dried yeast and sugar to the warm milk, leave for 5 minutes and then stir in the yogurt and melted butter
Combine the flour and salt in a bowl, make a well in the centre, pour in the liquid and mix to make a dough.
Turn out the dough onto a floured board or work surface and knead until smooth. Place back in the bowl and cover with oiled cling film. Put in a warm place for 30-40 minutes until the dough has risen and is soft to touch. (Meanwhile, create the topping).
Divide the dough into eight pieces. roll into balls and flatten with a rolling pin until roughly 5mm thick
Heat a griddle pan or non stick frying pan over a low to medium heat. Brush each flatbread with the melted spread and oil mixture. Cook the breads for 2-3 minutes on each side.
For the topping:
Preheat the oven to 180c
Add the onions, 1 tsp of the olive oil, soft brown sugar and dairy free spread to a large roasted dish and mix until evenly coated. Roast in the oven for 20-25 minutes until the onion is brown and has started to crisp.
Put the hazelnuts in a small roasting dish and toast in the oven for 3-5 minutes, when cooled, roughly chop.
For the dressing, mix the soy yogurt with 1 tbsp of the olive oil, the dijon mustard and a pinch of sea salt and black pepper.
To assemble, top  each flatbread with a nice big tablespoon of Olive Branch Fig & Mint Tapenade, some of the roasted red onion, a handful of rocket, a sprinkle of toasted hazelnuts and drizzle with the creamy dressing.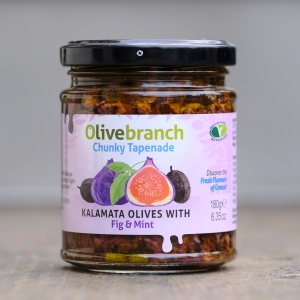 Tags: