Holwood Farm Shop and Deli offers food lovers a true taste of the 'Garden of England'.

About Holwood Farm
We established Holwood Farm Shop because we've always been really passionate about local food and had such trouble finding local Kentish produce in the shops and supermarkets. Before opening the shop in October 2012, we did lots of research into English producers, particularly the ones in our region, and met some amazing people.
Our offering changes with the seasons, and we go out of our way to support small, independent producers. The emphasis is on local – as much as we can find – and free range. Everything you'd expect from a really good deli but in a rural setting. It's a farm shop, but on a bigger scale. We hope you like it!
Gary Mercer and Sarah Clout 
Our guiding principles
We are committed to providing a food retail environment with the best quality regional produce in a friendly atmosphere with knowledgeable staff, providing value for money and excellent service to our customers.
To be a good employer. We aim provide an attractive and forward-looking place of work, encouraging the personal and professional development of our staff.
We do our best to provide food and drink that is:
Of known provenance
Locally produced or distributed
Value for money for the highest quality and taste
Sustainably grown
Unprocessed and unadulterated
Produced or distributed by cooperatives, worker-managed businesses, small businesses and cottage industries
Not produced by the exploitation of workers
Living history
The 16th century Holwood Farm certainly has an historic past.
Originally the home farm on the Holwood estate – famous for being the home of William Pitt the Younger – in 1820, the architect of Holwood House, Decimus Burton, redesigned the farm buildings around a central courtyard consisting of a dairy, stables, grain store and byre, and the farm operated as a working dairy farm until 2006 when the land was sold separately and it fell into disrepair.
The estate still boasts the oak tree under which, it's said, William Pitt and William Wilberforce discussed the abolition of slavery. 
Disclaimer
All information written in this site is based on our honest opinion , gathered information, written editorial and is for information purposes only. So, we do not warrant or assume any legal liability or responsibility for the accuracy, completeness, or usefulness of any information, apparatus, product, or process disclosed. We also cannot claim any of the written information to be factual or slanderous (libel) to any company or individual.
When visiting our Web site, your Web browser may produce pop-up advertisements in some of the pages. These advertisements were most likely produced by other Web sites you visited or by third party software installed on your computer. holwoodfarm.co.uk does not endorse or recommend products or services for which you may view a pop-up advertisement on your computer screen while visiting our site.
holwoodfarm.co.uk web pages may provide links to other internet sites for the convenience of users. holwoodfarm.co.uk is not responsible for the availability or content of these external sites, nor does holwoodfarm.co.uk endorse, warrant, or guarantee the products, services, or information described or offered at these other internet sites. Users cannot assume that the external sites will abide by the same Privacy Policy to which holwoodfarm.co.uk adheres.
Some Web pages may contain medical and/or allergy information. It is not the intention of holwoodfarm.co.uk to provide specific medical advice but rather to provide users with information to better understand their health and their diagnosed disorders. Specific medical advice will not be provided, and holwoodfarm.co.uk urges you to consult with a qualified physician for diagnosis and for answers to your personal question.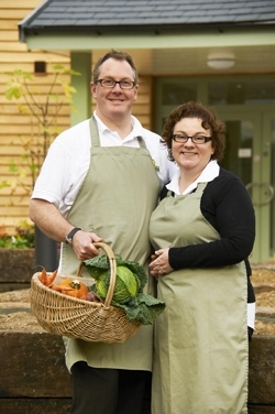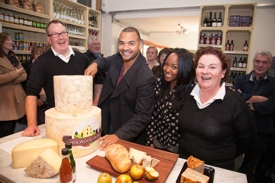 Holwood Farm Shop was officially opened on 9 November 2012 by Celebrity Masterchef finalist - and TV presenter - Michael Underwood and his wife Angellica Bell, The One Show's roving reporter. Both are strong supporters of local food.