Holwood Farm Shop and Deli offers foodies a true taste of the 'Garden of England'.
Call us 01689 638381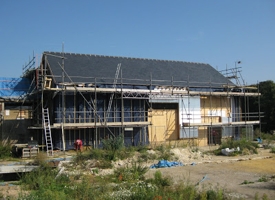 Living history
The 16th century Holwood Farm certainly has an historic past.
Originally the home farm on the Holwood estate – famous for being the home of William Pitt the Younger – in 1820, the architect of Holwood House, Decimus Burton, redesigned the farm buildings around a central courtyard consisting of a dairy, stables, grain store and byre, and the farm operated as a working dairy farm until 2006 when the land was sold separately and it fell into disrepair.
The estate still boasts the oak tree under which, it's said, William Pitt and William Wilberforce discussed the abolition of slavery. 
| | | |
| --- | --- | --- |
| 1770 | Mantles Hole | Robert Burrows establishes the first farm on the site called Mantles Hole. |
| 1796 | Mantles Hole | William Pitt.  Farmhouse extended. |
| 1820 | Mantles Hole | John Ward.  Extended the Farmhouse and it is believed that he had Decimus Burton re-plan the buildings around a central courtyard. Changes included kitchen storerooms, indoor lavatory and attic bedrooms. |
| 1832 | New Farmhouse | A map was published with the the name of the farm as "New farmhouse and buildings" |
| 1841 | Holwood Farm | Census records Henry Bowen,47, Farmer, With wife Hannah, 50 and daughters Emily 13, and Mary 11, with 1 servant. |
| 1851 | Holwood Farm | Henry Bowen was still living at the farm with a record "300 acres employing 20 laboureres at harvest about 60" |
| 1851 |   | Sale of Holwood Park, lot 5 records "An enclosed Farm Yard, with Barn, stabling, Cattle Sheds, cowhouses, piggeries, granary, poultry-houses, and other various Farm Buildings, most substantially built". |
| 1871 |   | Census John Buckle, 46, born Peterborough, was living at Holwood Farmhouse, Farms 270 acres employs 7 men and 1 boy, with his wife Catherine, 44, 3 children and 2 servants. |
| 1881 |   | John Buckle was still at the farm. |
| 1891 |   | David Batten, Carpenter, and his family. |
| 1908 |   | On the death of the 16th Earl of Derby, his wife asked John "Farmer" Wilson to look after the 1000 acre Holwood Estate.   John moved into the house with his wife.  Their daughter Hannah Wilson was born in 1911. |
| 1911 |   | Extra building attached to the Byre build to house expansion of herd. |
| 1920's |   | Hannah Wilson recalled "the cows we had 12 pedigree Jerseys, because Constance Lady Derby, liked rich creamy milk and cream.  A darymaid churned milk and produced  little butter pats stamped with the Derby crest". |
| 1930's |   | Southern Railway planned a railway line from Orpington which would have cut through Holwood Farm, the plans were abandoned in 1937. |
| 1939 |   | Lady Stanley held an auction of "Valuable Live and Dead Farming Stock". |
| 1939 |   | Alex Howie became a tenant of Holwood Farm, employing 11 farm workers and 2 Land Army girls. |
| 1951 |   | Alex Howie bought the farm when the Estate was broken up. |
| 1963 |   | Atcost barn built to replace a fire damaged barn. |
| 1960's -1970's |   | The farm prospered with the milking herd increased to 150 cows.  more milk quota was purchaed, wheat and barley sold well. |
| 2006 |   | Jean (Alex's daughter) and husband Malcolm Chamberlain continued to run the farm until October 2006, when their son moved with the dairy herd and the machinery to a new farm in Cornwall.    The land was sold and has now been broken into small plots. |
| 2009 |   | Gary Mercer and Sarah Clout bought the derelict farm buildings : stables, dairy, haybarn, yellow barn, byre and Atcost barn. |
| 2010 |   | Conversion into 3 houses and a farm shop begins. |
| 2011 |   | The Atcost Barn and the Haybarn are demolished. |
| 2012 | Mantles Cottage | Conversion of the Stables is completed and renamed 1 Mantles Cottage, Holwood Farm. |
| 2012 | Yellow Barn | Conversion of Grain Barn is completed, Renamed Yellow Barn, Holwood Farm and Opened as a Farm Shop and a Coffee Shop |
| 2013 | Mantles Cottage | Conversion of the Dairy/Milking Parlour is completed and renamed 2 Mantles Cottage, Holwood Farm. |