Holwood Farm Shop and Deli offers food lovers a true taste of the 'Garden of England'.
Call us 01689 638381 
About Holwood Farm
We established Holwood Farm Shop because we've always been really passionate about local food and had such trouble finding local Kentish produce in the shops and supermarkets. Before opening the shop in October 2012, we did lots of research into English producers, particularly the ones in our region, and met some amazing people.
Our offering changes with the seasons, and we go out of our way to support small, independent producers. The emphasis is on local – as much as we can find – and free range. Everything you'd expect from a really good deli but in a rural setting. It's a farm shop, but on a bigger scale. We hope you like it!
Gary Mercer and Sarah Clout 
Our guiding principles
We are committed to providing a food retail environment with the best quality regional produce in a friendly atmosphere with knowledgeable staff, providing value for money and excellent service to our customers.
To be a good employer. We aim provide an attractive and forward-looking place of work, encouraging the personal and professional development of our staff.
We do our best to provide food and drink that is:
Of known provenance
Locally produced or distributed
Value for money for the highest quality and taste
Sustainably grown
Unprocessed and unadulterated
Produced or distributed by cooperatives, worker-managed businesses, small businesses and cottage industries
Not produced by the exploitation of workers
Living history
The 16th century Holwood Farm certainly has an historic past.
Originally the home farm on the Holwood estate – famous for being the home of William Pitt the Younger – in 1820, the architect of Holwood House, Decimus Burton, redesigned the farm buildings around a central courtyard consisting of a dairy, stables, grain store and byre, and the farm operated as a working dairy farm until 2006 when the land was sold separately and it fell into disrepair.
The estate still boasts the oak tree under which, it's said, William Pitt and William Wilberforce discussed the abolition of slavery. 
PRIVACY POLICY
This privacy policy sets out how Holwood Farm uses and protects any information that you give Holwood Farm when you use this website. Holwood Farm is committed to ensuring that your privacy is protected. Should we ask you to provide certain information by which you can be identified when using this website, then you can be assured that it will only be used in accordance with this privacy statement. Holwood Farm may change this policy from time to time by updating this page. You should check this page from time to time to ensure that you are happy with any changes. This policy is effective from 22/5/18. The purpose of this policy is to explain to you how we control, process, handle and protect your personal information while browsing or using this website, including your rights under current laws and regulations. If you do not agree to the following policy you may wish to cease viewing / using this website. Policy key definitions: •"I", "our", "us", or "we" refer to the business, La Barbe. •"you", "the user" refer to the person(s) using this website. •GDPR means General Data Protection Act. •PECR means Privacy & Electronic Communications Regulation. •ICO means Information Commissioner's Office. •Cookies mean small files stored on a users computer or device.
PROCESSING OF YOUR PERSONAL DATA
Under the GDPR (General Data Protection Regulation) we control and / or process any personal information about you electronically using the following lawful bases. •Lawful basis: Consent Data retention period: We will continue to process your information until you withdraw consent or it is determined your consent no longer exists. Sharing your information: We do not share your information with third parties.
WHAT WE COLLECT
We may collect the following information:
•name
•contact information including email address and home address
•demographic information such as postcode, preferences and interests
•other information relevant to customer surveys and/or offers
WHAT DO WE DO WITH THE INFORMATION WE GATHER
We require this information to understand your needs and provide you with a better service, and in particular for the following reasons:
•Internal record keeping.
•We may use the information to improve our products and services.
•We may periodically send promotional emails about new products, special offers or other information which we think you may find interesting using the email address which you have provided.
•From time to time, we may also use your information to contact you for market research purposes. We may contact you by email, phone or mail. We may use the information to customise the website according to your interests.
SECURITY
We are committed to ensuring that your information is secure. In order to prevent unauthorised access or disclosure, we have put in place suitable physical, electronic and managerial procedures to safeguard and secure the information we collect online.
HOW WE USE COOKIES
A cookie is a small file which asks permission to be placed on your computer's hard drive. Once you agree, the file is added and the cookie helps analyse web traffic or lets you know when you visit a particular site. Cookies allow web applications to respond to you as an individual. The web application can tailor its operations to your needs, likes and dislikes by gathering and remembering information about your preferences. We use traffic log cookies to identify which pages are being used. This helps us analyse data about web page traffic and improve our website in order to tailor it to customer needs. We only use this information for statistical analysis purposes and then the data is removed from the system. Overall, cookies help us provide you with a better website, by enabling us to monitor which pages you find useful and which you do not. A cookie in no way gives us access to your computer or any information about you, other than the data you choose to share with us. You can choose to accept or decline cookies. Most web browsers automatically accept cookies, but you can usually modify your browser setting to decline cookies if you prefer. This may prevent you from taking full advantage of the website.
LINKS TO OTHER WEBSITES
Our website may contain links to other websites of interest. However, once you have used these links to leave our site, you should note that we do not have any control over that other website. Therefore, we cannot be responsible for the protection and privacy of any information which you provide whilst visiting such sites and such sites are not governed by this privacy statement. You should exercise caution and look at the privacy statement applicable to the website in question.
EMAIL MARKETING MESSAGES AND SUBSCRIPTION
Under the GDPR we use the consent lawful basis for anyone subscribing to our newsletter or marketing mailing list. We only collect certain data about you, as detailed in the "Processing of your personal date" above. Any email marketing messages we send are done so through an EMS, email marketing service provider. An EMS is a third party service provider of software / applications that allows marketers to send out email marketing campaigns to a list of users. Email marketing messages that we send may contain tracking beacons / tracked clickable links or similar server technologies in order to track subscriber activity within email marketing messages. Where used, such marketing messages may record a range of data such as; times, dates, I.P addresses, opens, clicks, forwards, geographic and demographic data. Such data, within its limitations will show the activity each subscriber made for that email campaign. Any email marketing messages we send are in accordance with the GDPR and the PECR. We provide you with an easy method to withdraw your consent (unsubscribe) or manage your preferences / the information we hold about you at any time. See any marketing messages for instructions on how to unsubscribe or manage your preferences.
YOUR INDIVIDUAL RIGHTS
Under the GDPR your rights are as follows:
•the right to be informed;
•the right of access;
•the right to rectification;
•the right to erasure;
•the right to restrict processing;
•the right to data portability;
•the right to object; and
•the right not to be subject to automated decision-making including profiling.
You also have the right to complain to the ICO [www.ico.org.uk] if you feel there is a problem with the way we are handling your data. We handle subject access requests in accordance with the GDPR.
CONTROLLING YOUR PERSONAL INFORMATION
You may choose to restrict the collection or use of your personal information. If you have previously agreed to us using your personal information for direct marketing purposes, you may change your mind at any time by emailing us using the contact details on the website. We will not sell, distribute or lease your personal information to third parties unless we have your permission or are required by law to do so. If you believe that any information we are holding on you is incorrect or incomplete, please write to or email us as soon as possible. We will promptly correct any information found to be incorrect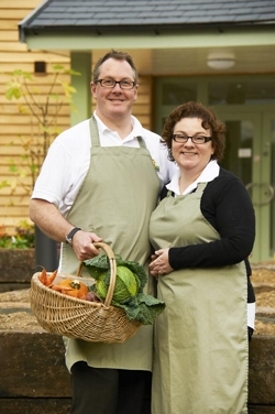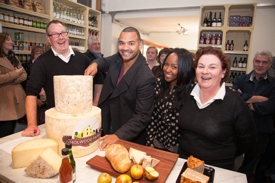 Holwood Farm Shop was officially opened on 9 November 2012 by Celebrity Masterchef finalist - and TV presenter - Michael Underwood and his wife Angellica Bell, The One Show's roving reporter. Both are strong supporters of local food.