Holwood Farm Shop and Deli offers food lovers a true taste of the 'Garden of England'.
Call us 01689 638381 
Holwood Farm Hampers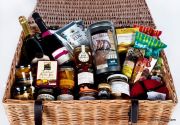 We have put together a collection of gift hampers to suit most tastes and budgets - with over 20 hamper for £40 and under, for Him, for Her, For Coffee Lover, for Cheese Lovers....
DIY Hampers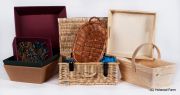 Our empty hamper baskets will give you room to be creative and tailor your hamper to suit whoever it is intended for. When you create your own hamper you can choose your own colour paper shred, a pull bow and a cellophane bag. DIY Hampers can be filled with products from the Deli and assembled at home, which allows you to add homemade items for a truly personalised hamper.
Hampers can also contain fresh produce such as cheese, charcuterie and smoked salmon.   We are happy to take an order for produce for a specific date.
Holwood Farm Gift Bags

Great presents from £12, goodies from the Deli wrapped in a cellophane bag finished with a bow. 
If the above link does not work type the following into your browser https://holwoodfarmshop.co.uk/collections/hampers
All our hampers are assembled at Holwood Farm.   Any hamper can be customised by changing the Hamper tray or swapping any of the contents.   The price of the hamper will be adjusted accordingly.  Please speask to a member of the team for assistance