Holwood Farm Shop and Deli offers food lovers a true taste of the 'Garden of England'.
Call us 01689 638381 
Holwood Farm Shop
The offering at the Farm Shop changes with the seasons, so every visit is something of an adventure.
With the emphasis on local produce, the shop stocks more than 20 cheeses from Kent and neighbouring counties; British charcuterie, including chorizo, air-dried hams, cured bacon and salami; fruit and vegetables from Taste of the Weald; artisan bread;  free range meat and fresh cakes and savoury dishes.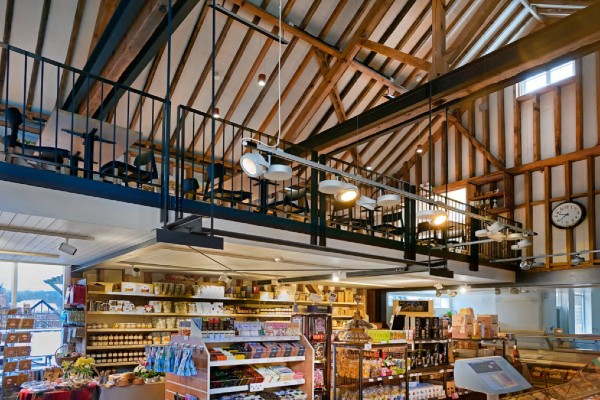 We go out of our way to support small, independent producers. The emphasis is on local – as much as we can find – and free range. Everything you'd expect from a really good deli but in a rural setting. It's a farm shop, but on a bigger scale.    
Cheese Menu
We offer a wide range of regional British cheese, the majority produced by artisan cheese makers from their own dairy herds. We cover all cheese types, traditional farmhouse cheese and regional.
Abondance
Appleby's Cheshire
Ashmore Kentish Cheese
Barber's 1833 Vintage 24 month
Barkham Blue
Black Bomber
Blacksticks Blue
Bleu D'Auvergne
Bluebell
Boilie Goats
Bowyer's Brie
Brie de Meaux Rouzaire
Burwash Rose
Cashel Blue
Chabichou de Poitou Fermier
Channel Island Brie
Colston Bassett Blue Stilton
Comte
Cornish Blue
Cornish Yarg
Delice de Cremier
Duddleswell
Epoisse
Golden Cross
Goodweald Smoked
Gorgonzola Piccante
Hereford Hop
Holmbury Vintage Cheddar
Kentish Blue
Langres
Le Cret Gruyere
Leicester Red Aged - Hoe Stevenson
Lincolnshire Poacher
Lochois with thyme
Lord of the Hundreds
Manchego
Maryland Mature
Montgomery Mature Cheddar
Mozzarella di Buffalo
Mrs Kirkham's Lancashire
Ossau Iraty
Oxford Blue
Parmesan
Quickes Mature Farmhouse Cheddar
Rachel
Reblochon
Roquefort Coccinelle
Saint Giles
St. Marcellin
Stinking Bishop
Organic Sussex Slipcote - Garlic and Herb
Organic Sussex Slipcote - Plain
Organic Sussex Slipcote - Pepper
Sussex Yeoman
Swaledale
Tornegus
Waterloo
White Stilton with Mango and Ginger
Wigmore
Wild Garlic Cornish Yarg
Winterdale Shaw
Winterdale Shaw Oak Smoked
Our producers
One of the best things about running a local food shop is that we get to meet so many fabulous people who make up the local food scene right here in Kent ... and experts from a little further afield.
These people are always passionate about what they do: from making chutneys and preserves from locally foraged ingredients to baking the most luscious cakes and creating freshly-made meals ready to pop into your oven, they all ensure our shelves are always stocked with the top-quality produce that sets Holwood Farm Shop apart.
To read more about our producers, click on the button below: