Holwood Farm Shop and Deli offers foodies a true taste of the 'Garden of England'.
Call us 01689 638381 
Cheese boards from Holwood Farm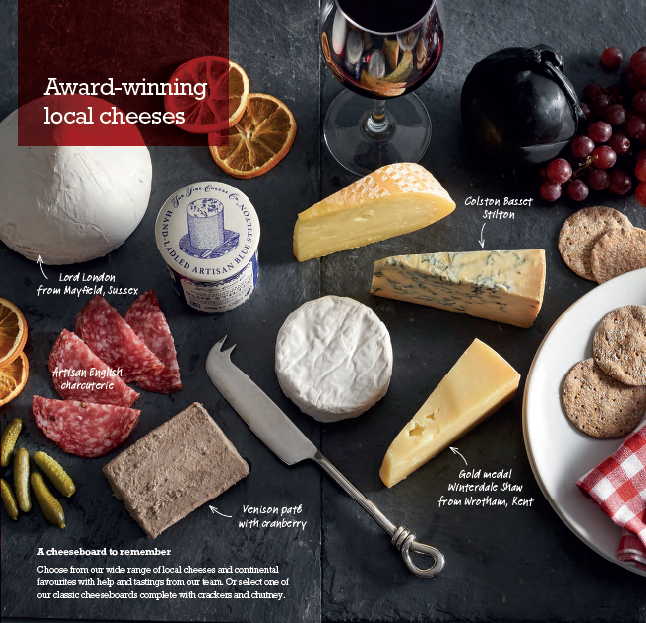 With our unrivalled selection of local, regional and continental cheeses, you'll be sure to impress your guests with one of our hand-selected ready-made cheeseboards.
You can always ask our knowledgeable staff for help building your own custom cheeseboard too - just come and visit us in the Farm Shop.
For a complete list of all our cheeses, please see our cheese page.
Our cheese boards are designed to serve 8 - 10 people and come with 2 packets of speciality crackers.
Holwood Locals - £30
Winterdale Shaw Cheddar - 300g
Made just 12 miles away and cave-aged on the North Downs. 
Kentish Blue - 200g
A traditional smooth and mellow blue with a long-lasting aftertaste. 
Lord London - 200g
A unique semi-soft bell shaped cows' cheese, with a citrus taste and a natural creaminess.
Saint Giles - 200g
This semi soft creamy cheese is made using organic cow's milk and has a rich, buttery texture and a stunning edible orange rind.

Holwood Choice - £30
Wookey Hole Cheddar - 300g
An award-winning cheddar aged in Somerset caves for 3 months. 
Smoked Ashdown - 200g
Sharp and buttery oak-smoked cheese from High Weald Dairy.
Somerset Brie - 200g
Mild, creamy and fresh-flavoured brie from the Lubborn Creamery.

Brighton Blue - 200g
This award-winning cheese has a semi-soft texture, with a mellow blue flavour and fragrant aroma.


Classics - £30
Black Bomber Cheddar - 300g
A powerful yet mellow creamy cheddar produced in Snowdonia. 
Colston Bassett Stilton - 200g
A melt-in-the-mouth mellow blue cheese with no acidic bite.
Brie de Meaux Rozaire - 200g
The King of Cheeses - a rich, creamy and very special French brie.
Beechwood Smoked - 200g

LAST ORDER DATE FOR CHRISTMAS
We have extended our last order date for cheese boards to Sunday 16th December.
Festive opening times 2018
Christmas Eve - 9am -3pm
Christmas Day - CLOSED
Boxing Day - CLOSED
Thur 27th December - CLOSED
Fri 28th December  - CLOSED
Sat 29th December - 9am - 5pm
Sun 30th December - 10am -4pm
New Year's Eve - CLOSED
New Year's Day - CLOSED
Please note that we will be closed Wednesday 2nd January - Monday 14th January, reopening Tuesday 15th January 2019