Holwood Farm Shop and Deli offers foodies a true taste of the 'Garden of England'.
Call us 01689 638381 
CASPA SANTA'S GROTTO
Autism & SEN Family Christmas Experience 
Saturday 8th and Sunday 9th December 2018
10.30am - 4pm
Join us for our special a

utism & SEN family Christmas experience
Dates
The grotto will be open on Saturday 8th and Sunday 9th December between 10.30am - 4pm and ALL VISITS MUST BE PRE-BOOKED DIRECTLY WITH CASPA/EVENTBRITE - see link below.
Event details
Get creative decorating a festive biscuit and making reindeer food with our experienced, caring DBS checked Elves who are on hand to help guide/support families through the experience.
With our small groups and genuine approach, All children can access this magical Christmas stress- free experience.
Parking is free, it is wheelchair-friendly and there is a disabled toilet.
Ticket Price
£15 per Child & £2per adult or child under 2

TO BOOK YOUR TICKETS 
For more information contact: events@caspabromley.org.uk
Our very special grotto created especially for children with autism will return to Holwood Farm this Christmas, making it possible for many families to experience a visit to Santa for the first time. Organised by Bromley-based charity Children on the Autistic Spectrum Parents' Association (CASPA), the grotto will be located in our barn, right opposite the farm shop. 
We're delighted to be supporting CASPA again in 2017 - here's their director Helen Dyer explaining why the grotto is so important:
"For most families, a visit to Santa's grotto is one of the high spots of Christmas, yet children on the autistic spectrum often miss out as they can struggle to cope with the sensory overload brought on by bright lights, crowds, noise and queues. It can just be a nightmare and it's no wonder parents avoid putting their children into that situation, especially at what is supposed to be a joyful time. It doesn't just affect the child with autism, but their siblings, too.
"The grotto at Holwood Farm Shop is created in a way that makes a visit to Santa possible for these families. The whole experience is designed to be calming and includes making reindeer food, decorating a cookie and story time with Mr and Mrs Christmas. Santa and his helpers are autism-trained and the families receive a lot of support. Quite often we get grandparents coming along too - sometimes the children are 15 or 16 and it's an occasion they haven't ever been able to share before."
We're really looking forward to welcoming CASPA and the families!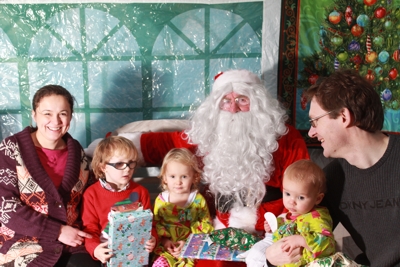 The Brown family from Bromley. Toby is affected by autism. He loved his visit to Santa at Holwood Farm.