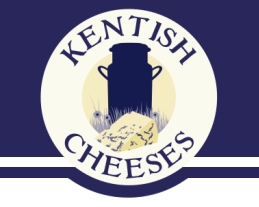 Award-winning Kentish Blue is produced by Kingcott Cheese at Iden Manor Farm, Staplehurst, owned by Steve and Karen Reynolds. This exceptional blue cheese was recently described by BBC Countryfile presenter John Craven as "delicious" and is handmade with raw milk from the family-run farm's herd of pedigree cows. 
About Kentish Blue:
Kentish Blue is a young blue cheese with a firm but moist texture. It has gentle smooth flavours on the first bite developing into a long lasting pleasant aftertaste. Flavoursome raw milk gives Kentish Blue a unique taste. Serve on its own or crumbled onto salads, pasta and soups. Unpasteurised cows milk / Suitable for vegetarians
Steve and Karen have kept a closed herd for 18 years but are now going through a major change by introducing a Swiss Brown cows. We caught up with the friendly farmers to find out why they have decided to make this major change, and what it means to their cheese production.