Holwood Farm Shop and Deli offers foodies a true taste of the 'Garden of England'.
Call us 01689 638381 
Time for change at Kingcott Cheese
May 27, 2014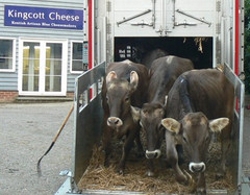 Here at Holwood Farm, we're well known for our splendid local cheese offering. Mass-produced, 'taste of nothing' varieties are allowed nowhere near our deli counter. Indeed, the ones that do make it into our display are all personally selected for flavour, texture and deliciousness.
Sourcing always starts right here in Kent, so it's no surprise that one of our favourite cheeses, award-winning Kentish Blue, is produced by Kingcott Cheese at Iden Manor Farm, Staplehurst, owned by Steve and Karen Reynolds. This exceptional blue cheese – recently described by BBC Countryfile presenter John Craven as "delicious" - is handmade with raw milk from the family-run farm's herd of pedigree cows.
After 18 years as a 'closed herd', when no new stock was introduced, the business is now going through a major change by gradually switching from Holstein Friesians to Brown Swiss cows. This switch is because of changes in the milk industry [as well as cheese-making, the farm sells milk to a local dairy], which see farmers being paid on the basis of butterfat and protein levels. Swiss Brown Cows naturally produce milk which is higher in protein, while still enjoying a grass-rich diet – there's no need to give them a high protein feed. Karen is hopeful that the milk will produce an even better cheese, as the type of protein is one that is important for coagulation and curdling.
"The change will involve buying in new stock so we have had to sacrifice being a closed herd for a few years whilst we build up the new herd and bloodlines. The change will be managed extremely carefully, as protecting the high health status of the animals is something we will never compromise on," says Karen.
This health status means there is no need for vaccination. To ensure they receive essential antibodies from their mothers' milk, the new-born calves are suckled for three days before being fed a milk substitute, which Karen explains is normal practice on dairy farms.
"Here, we place great importance on heifer rearing, especially in the first six weeks," she says.
The use of raw milk produced right there on the farm is an important point of difference for Kentish Blue (which is traditional in style and texture, firm with a bit of bite) and its sister cheese, the creamier Kentish Bluebell.
As Karen explains: "The theory is that you are using milk in its natural state, so it retains more of its natural qualities."
She goes on to say that raw milk produces cheese with a full, intense flavour. And thanks to advances in technology, the home-produced silage the cows are fed during the winter months means seasonal variations in the finished cheese are now a thing of the past.
"We are looking for consistency," she says. "The grass silage is such a high quality that [the milk] doesn't vary dramatically. Proteins and butter fats dip slightly when the cows go out in spring. It may be a bit more tangy, but we can tweak that in the maturing."
Kingcott Cheese is very much a family affair, and that's how Karen hopes it will stay. She and Steve have two sons and a daughter and the couple anticipate that at least one of them will join the business. Their 17-year-old son is already working at the farm, milking before and after school and expertly stabbing the cheeses – a process that is vital to stimulate the distinctive blue veining. Without the oxygen channels provided by the piercing, the culture wouldn't be activated.
The cheese production process that begins when the milk is still warm finishes around two and a half months later, when the wheels have ripened and are ready to be delivered to shops and delis – including Holwood Farm – to be enjoyed by customers eager for the true taste of Kent.
Buy Kentish Blue from Holwood Farm's deli counter and meet Karen Reynolds on Saturday June 21st 2014 when she joins us for a Producer Tasting Day.
Tags: Kingcott Cheese, Kentish Blue Cheese
Add Pingback