Holwood Farm Shop and Deli offers foodies a true taste of the 'Garden of England'.
Call us 01689 638381 
Karahi Gosht - lamb curry recipe
Ingredients
450g diced Lamb
150g minced Lamb
1 onion finely diced
40ml of olive, veg or sunflower oil
1.5 tsp of garlic paste
1.5 tsp of ginger paste
Salt to taste
1/2 tsp of black pepper
2 tsp cumin powder
2 tsp coriander powder
1.5 tsp garam masala
1 tsp turmeric powder
1.5 tsp red chilli powder or use 2 green chillies
1 tsp paprika
1 can of chopped tomatoes
4 tbsp of natural yogurt
1 handful of chopped coriander
150 - 200ml water
Half a handful of curry leaves
1 bay leaf
4 whole cloves
2 brown cardamons (use green cardamons if you can't get the large brown ones)
1 inch cinnamon stick
Method
1. Heat the veg oil in a pot along with the curry leaves, bay leaf, cloves, cinnamon and brown cardamons.
2. When the whole spices emit a subtle smell add the garlic and ginger paste and fry lightly for 30 seconds, be careful not to burn the garlic or ginger.
3. Add the onions and sweat them with a pinch of salt until translucent.
4. Add all the ground spices including the chilli powder and lightly fry, add a touch of water to stop the spices from burning and continue to lightly fry for a minute or two.
5. Add the canned tomatoes and continue to cook on a high flame, stirring well all the time for a few minutes or at least until the spices release oils.
6. Add the diced lamb along with the minced lamb and brown thoroughly.
7. When the meat has browned reduce the heat, add the yogurt, mix well and continue to cook for a few minutes.
8. Add the water, mix well and cook on a low flame for at least 30 to 40 minutes or longer if you are using a tougher cut like mutton or goat.
9. Check the seasoning and adjust if required.
10. Continue to simmer on a low flame until the lamb is thoroughly cooked through and the gravy reduced to a thick consistency.
11. Add the chopped coriander and stir and serve with either naan bread or mashed potatoes.
Thank you to Little Turban (Artisan producer of contemporary Indian cooking sauces) for this wonderful recipe.
Try their range of cooking sauces in the farm shop now.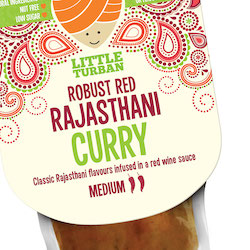 Tags: