Holwood Farm Shop and Deli offers foodies a true taste of the 'Garden of England'.
Call us 01689 638381 
BBQ VegChup Chicken with Cous Cous Salad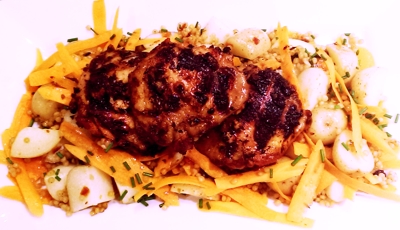 You will need 1 large zip lock bag
6 skin on/bone in chicken thighs
Marinade:
125ml All Things Saucy VegChup
125ml water
2 tbsp smoked paprika
2 tbsp garlic powder
2 tbsp cayenne pepper
2 tbsp lemon juice
2 tbsp balsamic vinegar
For the salad:
300g baby potatoes boiled, cooled & cut into quarters
200g giant cous cous
300ml boiling water
50g raisins
1½ tbsp all purpose seasoning
½ tsp cinnamon
2 tbsp olive oil
1 carrot cut into ribbons with a vegetable peeler
Bunch of  chives
Method:
Place all the marinade ingredients in the zip lock bag and mix.
Add chicken and coat well.  Place in the fridge for at least 2 hours or overnight. 
When you are almost ready to cook the chicken, prepare the salad by placing the cous cous in a microwavable dish with the all-purpose seasoning, cinnamon, 1 tablespoon of olive oil, raisins & water
Stir and cook on high for approximately 5 minutes until all water is absorbed & cous cous is cooked.
Fluff with fork & allow to cool.
Tip the cous cous into a serving bowl then add potatoes, carrot ribbons & remaining olive oil.  Snip in the chives using scissors & mix well.  Check seasoning before serving. Set aside until the chicken is cooked.
When ready to cook the chicken, remove from the bage and barbecue it on a medium heat until cooked through, which will take approximately 30 minutes.
Serve the chicken surrounded by the salad.
Read our interview with Emma-Jane Slack from All Things Saucy, who kindly contributed this recipe
Tags: barbecue recipe chicken