Holwood Farm Shop and Deli offers foodies a true taste of the 'Garden of England'.
Call us 01689 638381 
Emma-Jane's creative sauce
Aug 13, 2014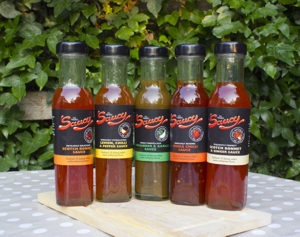 When she found herself jobless just before Christmas in 2012, keen cook Emma-Jane Slack wasted no time in reacting to an opportunity to start her own business after spotting a poster in the local Job Centre.  Less than two years later she has developed a collection of 10 condiments and won two awards in the process. 
All Things Saucy is a range of savoury marmalades, jams and sauces, made with natural ingredients using traditional preserving methods. Emma-Jane's sauce project actually started simmering a year before the life-changing moment in the Job Centre, when a savoury jam she created for the family was so well-received it inspired her to experiment with different recipes. The result was Scotch Bonnet Sauce, which now carries the All Things Saucy label. 
There's no doubt that these condiments excel in the taste stakes, but Emma-Jane recognises the significance of her new healthy ketchup – VegChup - when it comes to taking the range to new levels of innovation. VegChup is made with a blend of five vegetables, spices and, crucially, no added sugar. When you think that a traditional ketchup typically contains around 23% sugar, that's a big difference. Quick to point out that it's not just a case of skipping the sugar, the cook reveals "lots of experimentation" is an essential part of new product development. 
"I've used butternut squash because its natural starch gives the ketchup body without the need to add sugar," she explains. "Getting the recipe right takes a bit of practice and trial and error but you can do it."
VegChup launched earlier this year so it's still early days, but the reaction has been so positive that Emma-Jane has plans to expand her range of healthy options, as well as adding three limited edition products for Christmas. She is still deciding on the final choice but the mention of plum sauce - as an alternative to the more usual cranberry - has our taste buds tingling. 
It's been a good year for the the culinary entrepreneur, who recently beat off stiff competition to win an Ixion Enterprise Award, taking silver in the Product category, and has just discovered VegChup has scooped a prestigious Great Taste Gold award. 
The hub of Emma-Jane's "saucery" is the aptly named Sauce Shed, a professional kitchen which forms part of a social enterprise project located near Woolwich Dockyard. She moved her business there last September and does everything herself, from devising recipes to making the sauces, bottling, labelling, marketing and selling. 
"I'm definitely looking to expand but I have to be realistic as it's just me. Christmas cooking starts in the next two to three weeks," she says. 
With such a busy time ahead, we're delighted to confirm that Emma-Jane will be taking a break from the stove to participate in our next Festival of Food on Sunday 5th October.  She will be here with the full All Things Saucy range so we hope you will join us and take the opportunity to try them for yourself.
Try Emma-Jane's recipe for BBQ VegChup Chicken with Cous Cous Salad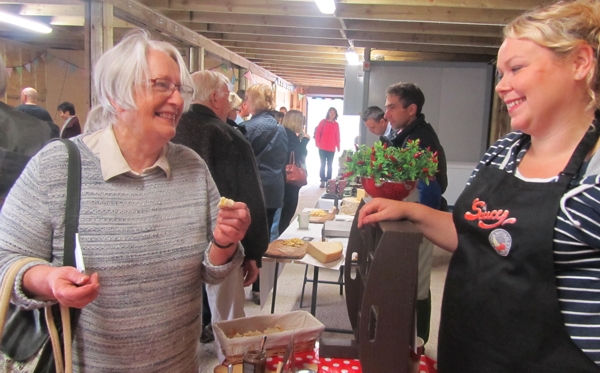 Emma-Jane (right) talks All Things Saucy with a customer
Tags: All Things Saucy Emma-Jane Slack
Add Pingback