Holwood Farm Shop and Deli offers foodies a true taste of the 'Garden of England'.
Call us 01689 638381 
Apple of our eye
Sep 29, 2017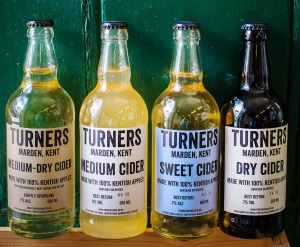 Here at Holwood Farm, we are particularly proud of the extensive range of local products that we stock in our shop, so it's always a delight to have a new one. From this autumn, we will be adding Turners Cider to our well-stocked shelves – made with 100% Kentish apples – and we know that everyone is going to love it!
A family-run business, based in the middle of an apple farm in Marden village in the Weald of Kent, all their fruit comes from local orchards on the south-facing ridge of the Greensand Way. As such, they produce their delicious range of craft ciders in the 'Eastern counties' style – that is, using dessert and culinary apples, such as Cox, Worcester and Bramley, rather than the traditional cider apples used down in Somerset.
"This means that our ciders taste quite different from those that people may have tried in the past," says May Turner, who runs the business with her husband, Phil. "Whereas Somerset cider is much heavier and has a lot of tannins, ours is cleaner, lighter and almost more like an apple wine."
Apart from the fact that their drinks taste delicious, there is also a lovely story behind Turners Cider. Started by May and Phil simply as a hobby, when they would gather up windfall apples with family and friends and produce the cider from their shed, it's fair to say that things have moved on a bit since then.
"We started by producing a very modest amount, just for fun, and were almost surprised when we found that it tasted nice," laughs May. "So it went on to become a bit of an annual tradition for us, and then, one year, we produced enough cider that we could sell some to the local pub and it all went from there."
Today, they produce 10 different ciders, from classic to rhubarb to apple pie, and ranging from 4% to 8% – and they are in hot demand not only across Kent but also in London and beyond. If any further endorsement were needed, they recently won a silver award at the British Cider Championships for their best-selling Elderflower Cider. So come down and see us and give it a try!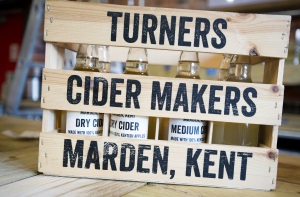 Tags:
Add Pingback