Holwood Farm Shop and Deli offers foodies a true taste of the 'Garden of England'.
Call us 01689 638381 
Say cheese at Holwood Farm
Apr 30, 2018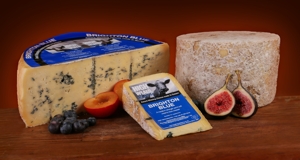 As regular customers will know, one of the things we do particularly well here at Holwood Farm is our extensive range of cheeses. From the best international varieties to award-winning local brands and everything in-between, our deli is always stocked full with a mouth-wateringly good selection. In short, we like to think of ourselves as the go-to place for any fans of fromage!
Whilst we're rather partial to a piece of Comte or a slither of Stilton, you can't beat our own varieties here in the South of England. With that in mind, we're proud to say that we stock many of the leading local cheesemakers in our farm shop.
One of our favourite brands from the region has to be the High Weald Dairy, located down in West Sussex, who produce a fantastic range of cheeses – all of which are vegetarian – with the all-important rennet made from a mushroom derivative. The majority are also organic – and they source their milk from only the highest-welfare farms.
From their semi-soft creamy cheese, St Giles, to their fresh and mild Sussex Slipcote, they really do have something for all tastes. A number of their cheeses have also won awards – and, in fact, their Brighton Blue recently received the distinction of a 'Super Gold' at last year's World Cheese Awards.
"That was a particularly exciting award for us," says co-owner of High Weald Dairy, Sarah Hardy, who runs the business with her husband Mark. "I think the judges especially liked our Brighton Blue because some blue cheeses can be rather strong, but ours is a very subtle, creamy cheese that really does melt in the mouth."
Funnily enough, we have a relationship with High Weald Dairy that goes back long before Holwood Farm was even a twinkle in our eye! We actually attended one of their popular cheesemaking courses – which was really good fun! That's one of the great things about being a local independent business – the spirit of collaboration that comes from working with other like-minded businesses.
Back here at Holwood Farm, we stock around 8 High Weald Dairy cheeses – alongside a whole host of other local brands – so, if you're a cheese-lover yourself, do pop down and pay us a visit.
Tags: Local Produce cheese farm shop
Add Pingback