Holwood Farm Shop and Deli offers foodies a true taste of the 'Garden of England'.
Call us 01689 638381 
BLUE CHEESE AND MUSHROOM SLIDERS
Jun 30, 2017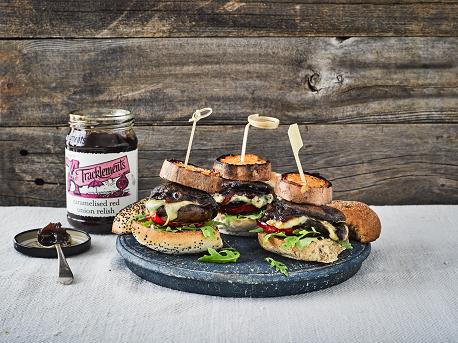 Ingredients
1 Medium-sized sweet potato
30g Butter
1 Clove garlic, finely chopped
8 medium-sized closed cup portabello mushrooms
Pinch dried chilli
Salt and pepper
50g Blue cheese cut into 4 slices
½ a roasted red pepper cut into 4
Handful rocket leaves
4 Small bun
Method

1. Preheat the oven to 180°C/350°F/Gas Mark 4.
2. Roast the sweet potato in the oven for 25-30 mins then slice into 2cm thick rounds
3. Preheat your grill on a medium setting.
4. Melt the butter in a small pan, add the garlic and remove from the heat. Cut the stalks from the mushrooms and discard.
5. Place the mushrooms and 4 rounds of sweet potato on a foil-lined baking tray, brush with the melted garlic butter, sprinkle with the chilli and season with salt and pepper. Grill for 6-8 mins or until the sweet potato is tinged golden brown round the edges and the mushrooms are cooked through.
6. Remove the sweet potato rounds from the tray and keep warm. Top 4 of the mushrooms with the blue cheese and grill for a further 1 mins or until the blue cheese has melted slightly. Top each blue cheese mushrooms with a tbsp of the Caramelised Red Onion Relish, place the other mushrooms on top with the gills facing down onto the relish and cheese.
7. Lightly toast the buns and top each bun with some of the rocket, a piece of roasted red pepper, the cheesy mushrooms and a sweet potato round, place the bun lids on top to serve.
Recipe courtesy of TRACKLEMENTS.
Tags:
Add Pingback