Holwood Farm Shop and Deli offers foodies a true taste of the 'Garden of England'.
Call us 01689 638381 
Full of beans
Jun 19, 2014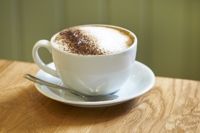 While wine might be the perfect accompaniment to a meal, after dinner only coffee (and perhaps a mint or two) will do. But then again, where would a hearty breakfast be without a rich roast, or a good book without good bean?
As you've probably guessed, we'll take any excuse to indulge in an expressive espresso or characterful cappuccino at Holwood – but we're not content with any old coffee - and don't think you should be either.
Luckily, independent speciality coffee roastery Coffee Real shares our passion for perfection (in fact, the company is even more fanatical than us when it comes to a good brew) and has allowed us to share some of their gems.
Directors Gary Best and Maarit Lotvonen both loved good coffee but were frustrated by the lack of places to buy it, so, in 2007, they took delivery of their first pallet of Arabica coffee beans and began hand roasting in small batches.
What sets them apart is their sourcing policies: they always go back to origin to hunt out the best beans, visiting the farmers personally – so, while you might have heard of coffee from Brazil or Guatemala, Coffee Real's 50-plus range can include roasts from El Salvador, Malawi, Rwanda, Tanzania, India and Papua New Guinea.
And then there's the roasting. At Coffee Real's new state-of-the-art roastery in Horsham, Sussex – which Gary describes as "more of a laboratory than a factory" – the beans are carefully and lightly hand roasted in 5-36kg batches for between 11 and14 minutes in the latest high tech roaster, which allows their flavour profile and origin characteristics to be kept intact.
"Good coffee can be more complex than a good wine, but so many people have only tried commercial grade supermarket coffee where little thought is given to the flavour profile or particular nuances of the bean," says Gary.
You may not find exactly the same Coffee Real roast on the shelves each time you visit. This is because, while the core countries remain the same, the farms they come from and the type of coffee bean changes seasonally and is influenced by what's good in the cup at that time.
And, with each coffee carefully roasted and packaged without oxygen and with a visible use by date, you can be sure it's as fresh as the day it was roasted. Is it time you woke up and smelt the Coffee Real?
Visit Holwood Farm Coffee Shop to enjoy a lovely cup of Coffee Real and then pick up a bag or two from the Farm Shop to enjoy at home. Look out, too, for the fabulous Coffee Real mugs.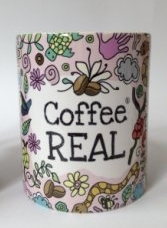 Tags: coffee
Add Pingback