Holwood Farm Shop and Deli offers foodies a true taste of the 'Garden of England'.
Call us 01689 638381 
Art of Mallow: a tasty bit of fluff
Nov 05, 2015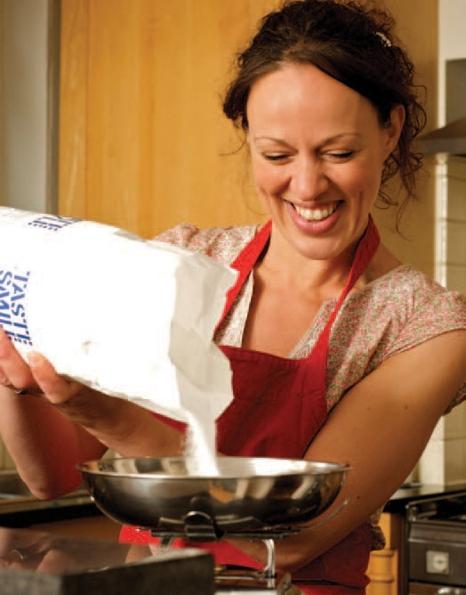 A few years ago, Philippa Quayle would never have imagined that she'd be spending her days hand-crafting gourmet marshmallows. But thanks to a chance glimpse of an American cooking show, Philippa's favourite childhood treat has become her life, as Art of Mallow.
"I was watching TV one evening and saw these marshmallows being made by hand – I was totally amazed," Philippa says. "I was a big lover of marshmallows anyway, but I thought that the pink and white ones you find at the supermarket were the only ones." Philippa experimented with making her own, and at the suggestion of her children created a mint-flavoured marshmallow. Friends, family and neighbours were so impressed with her creations that she approached a local deli to see if they might want to sell some.
"At first it was just a few hours a day while the kids were at school," Philippa explains. But before she knew it word had spread, and suddenly people all over the country were after some of Philippa's fluffy marshmallows. "The kitchen was soon overloaded with ingredients and marshmallows," she remembers. "So we cleared out the garage, got a builder in and turned it into a marshmallow kitchen."
Art of Mallow recently had to move into even bigger premises to cope with demand, but every marshmallow is still made by hand with natural ingredients, just as they always have been. And they're a world away from the bland, chalky pink and white marshmallows of childhood memories - it's no surprise that a number of flavours are Great Taste Award winners.
"We incorporate lots of air into our marshmallows and handle them very carefully to keep that light fluffiness," Philippa explains. "We use real fruit to flavour them, and we take time to make each one look like its flavour. Our raspberry ripple has a lovely bright ripple through it, and our chocolate flavours are covered in chocolate chips." The strawberries and cream flavour is pretty special too – a fluffy, fruity and creamy take on the British classic dessert in a double layer.
Naturally, the pretty packets of marshmallows make a popular foodie gift – if people can bear to share them, that is. "I've known people to buy a bag, walk out of the shop and start eating," Philippa laughs. "But with a bottle of wine when you're going to someone's house, they're a bit more unique than chocolates – and the mint choc chip flavour is a bit like an After Eight in a marshmallow."
Being a marshmallow expert has meant Philippa has received some unusual requests: "I do get asked to do cakes!" she says. "I make a huge marshmallow in a cake tin for special occasions." But while marshmallow cakes are just the occasional one-off, Philippa has recently launched new Art of Mallow chocolate pops – a delicious, hand-crafted marshmallow coated in Belgian chocolate. The decadent treats are especially good stirred into hot chocolate, Philippa notes – or just eaten straight off the stick.
With Christmas around the corner, the Art of Mallow kitchen is busy whipping up a seasonal favourite – Irish Cream marshmallows, with just a hint of grown-up booziness. "I've just been asked to create a rhubarb marshmallow and thinking about what to do with that," Philippa adds. "Plain rhubarb would be delicious, but also rhubarb and custard and rhubarb crumble ... It's all a matter of experimentation."
Visit the recipe page to see some imaginative serving suggestions.
Tags: food Art of Mallow
Add Pingback