Holwood Farm Shop and Deli offers foodies a true taste of the 'Garden of England'.
Call us 01689 638381 
Bringing home the bacon
Oct 21, 2015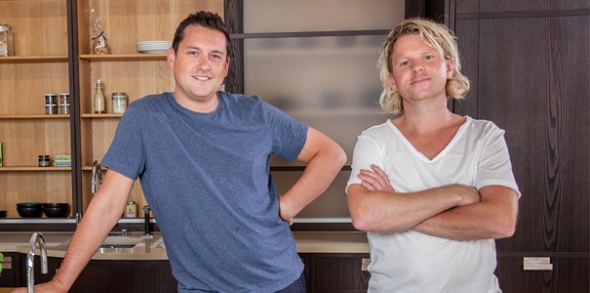 When it comes to the best beloved Great British foods, bacon would be pretty high up the list for many of us – and it's definitely a favourite of Ross Bearman and Ross Whitmill, the men behind the Homemade Curing Kit. When the two foodies discovered it was possible to cure your own bacon at home with minimal equipment, they knew they had to share their discovery with bacon fans everywhere.
Ross Bearman was managing a gastropub when he first met chef Ross Whitmill, and a few years later the pair were considering opening a deli and eatery together. "But it was in the middle of the recession and the banks weren't being very kind – they're still not," laughs Ross. Instead they hatched a plan to create their own British charcuterie brand, and Ross & Ross was born.
"When we started out there were a lot of people making British salami and chorizo, but no-one making patés, terrines and rillettes, so we saw a gap in the market," Ross explains. "After a couple of years, we noticed a big trend for gifts so we asked one of our stockists what kind of gifts they were looking for." The reply? "Anything masculine!"
With interest growing in food provenance and trying out traditional crafts and skills at home, the moment was ripe for the introduction of the Homemade Bacon Curing Kit. "Bacon is the original British charcuterie so it made perfect sense for us," says Ross. "Lots of people have been inspired by TV shows like Bake Off to have a go themselves, to try something different. There's a real satisfaction at the end when you've made something yourself."
It might come as a surprise that no specialist equipment is needed to create your own bacon at home. "Everything is in the kit – all you need is a bit of good quality pork belly from the butcher," Ross explains. "Each kit contains three different cures to make different kinds of bacon – all you do is rub your cure into the pork, put it in the fridge for four days, then wrap it in muslin and hang it in the fridge for another three days."
It almost sounds too good to be true – your own homemade bacon, ready to eat in a week? But it really is that simple, and you'll know that no nasty additives have gone into it. "A lot of supermarket bacon is injected with brine to make it expand – that's the white stuff you see when you cook it, so you're paying for water," says Ross. "Ours is the traditional method. When we've met people at food festivals, they've told us, 'That's the way my granddad used to make it'. The old ways are back in fashion."
The success of the Homemade Curing Kits for bacon has prompted Ross & Ross to look at other DIY possibilities, and a home salmon curing kit is now in the works. Ross is pretty confident they've found a great niche: "Everyone has that son-in-law or grandson that has everything. The kits give them a chance to have a go at something different without committing – instead of buying a big smoker and probably only using it once!"
Tags: bacon Homemade Curing Kit
Add Pingback