Holwood Farm Shop and Deli offers foodies a true taste of the 'Garden of England'.
Call us 01689 638381 
Brewing a revolution: Westerham Brewery
Jul 29, 2015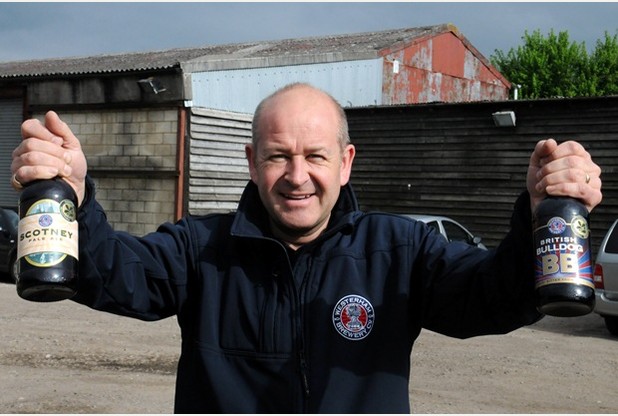 Hop-growing and brewing have been associated with Kent for hundreds of years and, after a period of mixed fortunes in the 20th century, this rich tradition is going from strength to strength thanks to people like Robert Wicks of Westerham Brewery.
Having established Westerham Brewery in January 2004, Robert's background isn't what you might expect. "I was in investment banking for 16 years," he explains. "But I've been brewing since I was eight years old." His passion for home-brewing was the catalyst for starting a business that has not only brought back the real ale heritage to the area around Westerham, but has also honoured those that went before it.
"I discovered some time ago that the water from the Lower Greensand Ridge is the best water for brewing pale ales outside of London," says Robert. The quality of the local water is the reason that there has been a brewery in Westerham since 1730, on the site where the Black Eagle Brewery was founded in the 1840s, and Robert adds that he knows of a brewer working in Westerham in 1608.
Sadly, the Black Eagle Brewery closed in 1965, but the foresight of its head brewer in depositing freeze-dried yeast samples in a national collection meant that Westerham Brewery has been able to recreate some of Black Eagle's famous brews. The revived 50-year-old yeast cultures are used to create Audit Ale and Double Stout, as well as the commemorative 1965. Robert is proud to note that a subsequent conversation with Black Eagle's second brewer revealed that Westerham's brewing technique was almost identical to the original.
While keeping this quintessentially Kentish tradition alive, Westerham Brewery is also shaking up the world of brewing with a proprietary technique that means that all 10 of its bottled beers are certified gluten-free. Made in exactly the same way Westerham Brewery has always made its beer, even the most discerning of drinkers won't notice a difference. "It's an interesting niche," is Robert's reply when asked about it – rather a modest response, since for coeliac and gluten-intolerant beer drinkers, as well as those choosing a gluten-free diet, it's a boon.
As well as being gluten-free, the bottled beers available at Holwood Farm are good in other ways, too. Scotney Bitter, Scotney Pale Ale and Viceroy India Pale Ale are made with hops from the nearby Scotney Castle estate, so they help to support the National Trust's work in preserving the nation's heritage. Alongside those you'll find William Wilberforce Freedom Ale, a beer produced to commemorate the 200th anniversary of the abolition of the slave trade – a portion of the proceeds goes to Stop The Traffik, an organistion that is devoted to fighting modern slavery and people trafficking. In another local twist, the remains of the Wilberforce Oak - under which William Wilberforce and William Pitt The Younger sat to discuss the abolition of slavery in 1788 - is located on the Holwood House estate.
As if the gluten-free innovation weren't enough, Robert is also one of the 'mad scientists' behind Kent's first ever malt whisky, which is at the beginning of its three-year maturation process. Working with Kent-based Anno Distillers, Westerham Brewery created the 2000 litres of malt-based wash (essentially 'beer without hops', Robert explains) which was then sent to Anno's distillery in Marden to rest in used bourbon casks. The partnership aims to produce malt whiskies to rival Scotland's best, and given the two companies' combined awards track records, they're almost certainly onto a good thing.
And with more exciting projects planned for Westerham Brewery – including the proposed construction of a new, bigger brewery and winery facility in partnership with the Squerryes Estate – it's safe to say that the future for Kentish beer has never looked better.
Try Westerham Brewery's gluten-free beers, and other gluten-free goodies, at Holwood Farm's Gluten Free Event over the August Bank Holiday weekend.
Tags: Westerham Brewery, beer, Kent
Add Pingback