Holwood Farm Shop and Deli offers foodies a true taste of the 'Garden of England'.
Call us 01689 638381 
It's All Greek To Me: Olive Branch
Jun 16, 2015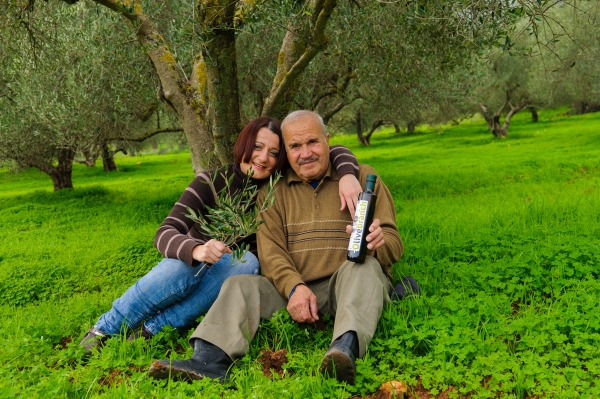 When Maria Koinaki moved to the UK to study for her masters degree, she soon missed the flavours of her native Crete and looked forward to food parcels from her family filled with freshly pressed oil from her father's olive grove. It wasn't long before dinner guests were asking where they could buy the delicious olive oil she used, and so in 2011 Maria and her partner Kamil launched Olive Branch to bring a taste of Greece to the UK.
"We had always wanted to start our own business," Maria explains, "and it just made sense to work with my father's olive oil. I used to help with the olive harvest as a child and olive oil is a big part of daily life in Greece, so I wanted to use my experience to help people in the UK learn about what makes really good olive oil."
Although her father's olive oil is the foundation stone of the company, Maria's vision was always to create a quality Greek food brand to highlight the wide range of produce for which Greece is famed. The Olive Branch range now includes tapenades, mezze and olives in jars, combining ingredients like figs, peppers, cheese and honey. "In our Red Pepper Paste we use peppers from the north of Greece – it's an area that is famous for the sweetness of its red peppers," says Maria. "And our sun-dried tomatoes come from Crete, where they grow juicy and rich. When we can use quality ingredients like these we don't need to add fillers, and many of our products have no added sugar – it's all natural flavour."
The flavours of her childhood have inspired Maria to create more unusual flavours too, and she's not afraid to break with tradition. "We've reinvented some classic Greek recipes, like our chunky tapenades which are made with a coarser grind," she explains. "The Kalamata Olives with Fig and Mint was inspired by salted caramel, and that idea of sweet and salty together – it creates a really nice, balanced flavour."
Is the British public ready for sweet olive concoctions? "There are so many cooking shows on TV now, and palates have changed – people are much more adventurous than they were before!" Maria laughs. "Olives steeped in syrup is a familiar concept in Greece, but when we saw a Masterchef finalist create a sweet kalamata olive dessert we knew it had the potential to be developed. Now our Sweet Olive, Fig and Almond Relish has won awards."
Despite the tough economic conditions that Greece has faced in recent years, Olive Branch's co-operative of farmers in Crete is flourishing. The structure gives the farmers flexibility to work with their neighbours to supply demand and boosts employment outside of Crete's other primary industry, tourism. Happily for us in the UK, this also means that Maria has close control over the quality of her products, which is why her Extra Virgin Olive Oil has won a host of awards and has been voted one of the UK's twelve best olive oils by The Independent.
For a company that's only four years old Olive Branch has quite the list of achievements behind it, and there's certainly no stopping Maria now. She's tight-lipped about what's in development, but whatever it is we've no doubt it will be delicious – and we can't wait to try it.
Recipe: Stuffed Portobello Mushrooms with Olive Branch Sun-Dried Tomato, Feta and Basil Green and Black Olive Tapenade
Tags: Olive Branch olive oil tapenade olives mezze Greek
Add Pingback