Holwood Farm Shop and Deli offers foodies a true taste of the 'Garden of England'.
Call us 01689 638381 
A cuppa with the original spice girl
Oct 22, 2014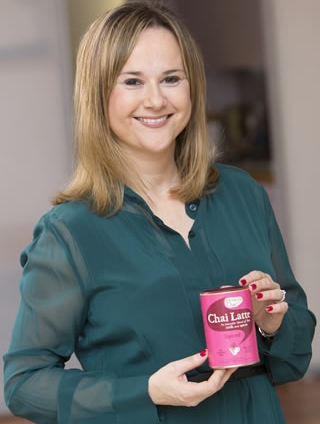 Amanda Hamilton knows how to create a stir. She also understands tea.  From her days brewing cuppas for commuters, the Farnborough-based founder and CEO of Drink Me Chai now exports her award winning instant chais to over 20 countries and has won a caddy-full of awards along the way. 
The entrepreneur cut her business teeth selling tea and other drinks to travellers at stations in the south east of London from three-wheel 'tuk tuks'. Yet it was during a trip to India, where chai is sold by chai wallahs in small clay cups, that Amanda took her first sip of the aromatic blend of black tea, milk and spices that was to change her life. 
On her return to the UK, she began experimenting in her kitchen, blending spices, sugar, milk and tea until she was satisfied that her exciting new product was ready for trialling on those thirsty rail commuters, an exercise which provided invaluable market research. After countless samples (and several tweaks), Drink Me Chai was born. 
That was 11 years ago. Today, chai is no longer a mysterious drink from a faraway land. It's gone mainstream, and Drink Me Chai is the number one instant chai in the UK (and the only one made here). 
"It's becoming the new hot chocolate," says Amanda, commenting that research shows the drink is particularly gaining popularity among teenagers, obviously keen to find a sophisticated alternative to coffee. It's worth noting that Drink Me Chai is 99 per cent caffeine-free. 
Taking into account our busy lives, it was clear to Amanda from the outset that she needed to develop an instant chai that captured the authentic flavours but without the hassle of the traditional preparation method.
"The original chai in India is fantastic and I wouldn't take anything away from that authenticity but it can take 40 minutes to make as you have to steep the tea, add spices and sugar and leave it to brew," she says. "We  wanted to capture those wonderful flavours in a more convenient way." 
At a time when supermarkets are coming in for some stick, Amanda is keen to point out that her early success was down to a contract with Tesco. 
"That opportunity was the turning point," she recalls.  "We had no packaging, no branding, no name, and for us that was the opening." 
Drink Me Chai is such a versatile drink and is equally delicious served hot or iced. It's made in moments from the powder by adding water or milk for an extra creamy taste and works well in recipes, such as these delectable Spiced Chai Honey and Yogurt Muffins.  
So, next time you fancy a cuppa, why not stir things up and sail on a sea of spice to the exotic land of chai? 
Here at Holwood Farm, we serve Drink Me Chai in the Coffee Shop and sell the powder in the Farm Shop for you to make your own chai latte at home.  Choose from a range of delicious flavours from the original and best-selling Spiced to the virtuous Green Tea Chai.
Tags: Chai
Add Pingback