Holwood Farm Shop and Deli offers foodies a true taste of the 'Garden of England'.
Call us 01689 638381 
Push the boat out for fresh fish
Dec 03, 2014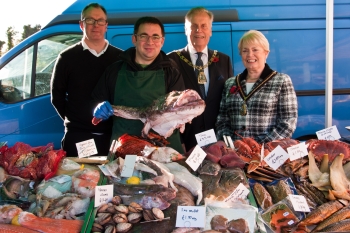 The onset of the winter chill is just the excuse we need to toast our toes in front of a cosy fire while tucking into warming comfort food. Now that we have the freshest fish available, literally, on our doorstep, thanks to Veasey and Sons setting up their stall right outside the farm shop for the weekly 'Fish Friday', we're really enjoying discovering what the latest catch has brought us and experimenting with seafood recipes, such as this one for Fisherman's Pie.
Truth is, it's easy overlook the harvest of our seas when considering locally-sourced food. Yet 90% of the wet fish on Veasey's stall is landed by boats operating from Eastbourne Harbour, just 60 miles away by road.
This sustainable fish is super-fresh, and the secret to that lies in two words: day boats.
As the name suggests, day boats return to shore every day. So, the wild sea bass you buy from us on a Friday was more than likely swimming in the sea the previous day, before being landed by Veasey and Sons' own catamaran, Le Belhara. That level of uber-freshness simply can't be matched by retailers who source from distributors who, in turn, are acquiring fish from boats that go to sea for two weeks at a time.
And you really can smell fresh – Veasey and Sons' stall brings with it the aromas of the sea.
Undoubtedly, earning a living from fishing is not for the fainthearted, and fish quotas tend to hit the small boats like Le Belhara (those under 10m). When we chatted to Dave Hussell, Veasey and Sons' chef/fishmonger who manages the stall at Holwood Farm, he told us that their boat is currently banned from landing plaice, skate and ray, while bigger fishing vessels are still permitted to do so. This is because the small boat "total allowable catch" quota set by Brussels for the UK has been met.
Still, there are other fish in the sea and this is a fruitful time for cod, pollack, herrings and sprats and there are even a few mackerel still around thanks to the waters being a touch warmer than usual. By fishing skilfully and responsibly, it is possible to be selective about the day's catch.
"We use what is called drift netting," explains Dave. "It shoots nets out, they hang in the water like a pair of curtains, and the size of the nets depends on what you get."
For instance, small young fish pass through the nets and other unwanted specimens bounce off.  
Fishermen-cum-fishmongers are a rare find these days so it was an important occasion here at Holwood Farm on Friday 7th November when The Worshipful the Mayor of Bromley Councillor Julian Benington attended the official opening of Veasey and Sons' new Fish Friday stall. The occasion was marked by tastings (the guests of honour's attendant was particularly keen on the smoked sprats!) and the Mayor and Mayoress were duly presented with a whole sea bass for their dinner, expertly filleted by Dave, who used to work for Rick Stein.
Chris Veasey, a fisherman of some 35 years' standing, owns Veasey and Sons with his son-in-law, Dan Howes.
"There's no comparison with supermarket fish," says Chris. "Ours is a far, far superior product, without a doubt. We take a lot of pleasure out of seeing a customer buying a piece of our fish and seeing that customer the following week and hearing how much they enjoyed it. The customers are always satisfied and happy."
What more could we ask of our fishmonger? They really are a great catch!
Photo by Keeley Snelgrove
Tags: Veasey and Son Fishmonger Fresh fish
Add Pingback