Holwood Farm Shop and Deli offers foodies a true taste of the 'Garden of England'.
Call us 01689 638381 
Hedging our bets
May 23, 2017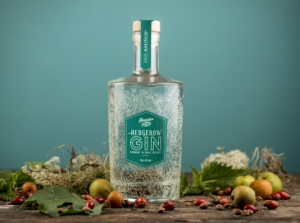 Gin fans will no doubt recall our previous blog 'Sloe and steady wins the race' about the delicious range of drinks created by artisan producer Sloemotion. Just as a little recap, they started producing their top-quality gin, produced from sloes picked in their local hedgerows, around 10 years ago. Since then, they have grown into an award-winning producer of not only sloe gin but also sloe brandy, port and whisky  and even bramble and damson liqueurs – and now there's a new tipple to add to the collection.
For this latest craft drink, the team have returned to their foraging instincts and created an innovative, small-batch, craft gin with a difference. This time, they have added some novel hedgerow botanicals into the distillation. These include rosehips, crab apples and sloe stones for their mellow, fruity dryness while elderflower, nettle leaf and wildflower-rich meadow hay (including sweet vernal grass, meadowsweet and purple wild thyme) add a multitude of floral subtleties. What is more, in line with their 'life on the hedge' philosophy, they have been sourced mostly from the hedgerows of their native Yorkshire.
 "We're really excited to be launching our Hedgerow Gin," says managing director of Sloemotion, Joff (Jonathan) Curtoys. "It's been a painstaking process of development and refinement over the last two years; getting the recipe just right and creating a really beautiful bottle. We hope people will love it and the gin as much as we do."
Their meticulous dedication to the ingredients means that as well as foraging from the local hedges, they hand-cut hay from their own species-rich "micro-meadow" at Green Farm, in the rural village of Barton-le-Willows, and at Yorkshire Wildlife Trust's Wharram Quarry Nature Reserve - which had just the right composition of species to get the flavours they wanted. And, in keeping with their environmental credentials, their sloe stones come straight from their own Sloe Gin production.
"Up until this point, the stones were literally the only bi-product from the liqueur-making process that wasn't re-used," adds Joff. "The flesh of the spent fruit is used in our popular range of chocolates truffles and chutneys – and now the stones are being put to excellent use too!"
Sloes are the fruit of the blackthorn, a popular hedging plant because of its robust nature and vicious thorns. Inspired by this, the eye-catching artwork on the bottle was inspired by the pretty blackthorn blossom, which lines fields and lanes in early spring each year. In addition, each of the botanicals is depicted in an intricate hand-drawn 'hedgerow' sketch.
Sloemotion recommends Hedgerow Gin mixed with a good-quality tonic, a slice of English apple and a sprig of thyme. They also have a variety of gin cocktail ideas; the recipes are available on their website at www.hedgerow-gin.com.
-          Sloemotion's Hedgerow Gin will be available at Holwood Farm from the beginning of June 2017 but is available now for pre-order.
Tags:
Add Pingback