Holwood Farm Shop and Deli offers foodies a true taste of the 'Garden of England'.
Call us 01689 638381 
A WHOLE NEW LEVEL
Mar 10, 2017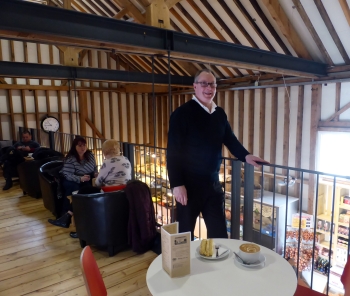 Here at Holwood Farm, our coffee shop has become so popular it would often be somewhat packed. While we were delighted to see it doing so well (and those delicious pasties and cakes flying off the shelves!), we also wanted to make sure that everyone could get a seat. So it was then that we came up with the decision to create a stunning new mezzanine to provide extra space.
Located up in the former grain store of the main barn, and incorporating the old hay doors, this striking new structure incorporates the farm's heritage while also having a contemporary edge.
It's a really interesting space architecturally and our customers enjoy the lovely view overlooking the deli and cheese counter downstairs. In fact, everyone has been commenting on the great atmosphere here and we've been really busy since we opened.
The new mezzanine provides space for 10 extra tables in all, including two tub chairs, two sofas and a big coffee table for groups. On the walls are paintings by local artist John Parris, whose work is also featured on the farm's Christmas and gift cards.
Obviously, our emphasis is very much on 'local' here, as that's what sets apart; many of the ingredients in our dishes come from the farm shop downstairs.
A perfect meeting spot for friends, with plenty of free parking, the coffee shop serves everything from morning pastries and creative sandwiches to artisan cheese platters and afternoon teas. And with our gorgeous new mezzanine, we are now literally packed to the rafters!
Tags:
Add Pingback