Holwood Farm Shop and Deli offers foodies a true taste of the 'Garden of England'.
Call us 01689 638381 
Ice Cream That's Simply Irresistible
May 20, 2015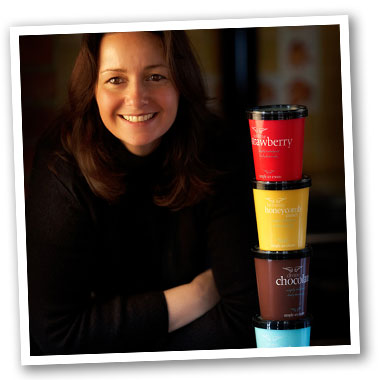 When guests kept asking Sally Newall where they could buy the ice cream she served at weddings, she knew it was time to quit catering and start making ice cream full time. So after 20 years in catering she set up Simply Ice Cream in October 2005, supplying just one farm shop to see whether it sold. Fast forward to 2015 and Simply Ice Cream is now sold in farm shops, delis, pubs, tea rooms and even supermarkets across the country – including Holwood Farm Shop.
"When we started the business the idea was that we would get our weekends back, but it didn't quite pan out like that," Sally laughs. The popularity of her indulgent ice cream meant Sally was spending most of her weekends at food festivals and tastings, and within the first year Simply Ice Cream went from being sold in that one local farm shop to 16. Having grown to nearly 400 outlets across the south of England, it's good to know that Simply Ice Cream is still made the same way it always was, by hand in the heart of Kent.
Anyone who has tried Simply Ice Cream has something to say about it: TV chef James Martin reckons it's the best ice cream you can buy, and the range has won piles of awards including a prestigious Three Star Gold Great Taste Award in 2011 – the highest accolade a food product can be awarded in the UK. So what is it that makes Simply Ice Cream so irresistible? Sally has very firm ideas about what makes great ice cream: a high cream content, hand-whisking and no unnecessary additives.
"Everything we made for the catering business was handmade, always from fresh, and we'd always use local suppliers and farmers where we could," Sally explains. "That carried on over to the ice cream. And most of our flavours are suggestions from customers, or have coming from chatting to other producers at shows."
The two newest additions to the range came about in exactly this way. The idea for salted caramel ice cream came from Simon, the Kent-based maker of O'er The Moon Fudge, who suggested his salted caramel sauce would make a great ice cream flavour, while the mango and passion fruit sorbet was the result of an existing relationship with a small fruit importer in Sevenoaks.
With 32 flavours to choose from, it's a tough call for anyone to choose a favourite. The Heavenly Honeycomb Crunch is a consistent best-seller along with the classic vanilla, strawberry and chocolate, but there are plenty of more unusual flavours to tempt the tastebuds too. "We like to give our customers lots of choice!" Sally says. The only question that remains is which flavour will you try first?
Tags: Simply Ice Cream ice cream Kent
Add Pingback