Holwood Farm Shop and Deli offers foodies a true taste of the 'Garden of England'.
Call us 01689 638381 
Shake it up with Lucy's Dressings
Apr 27, 2015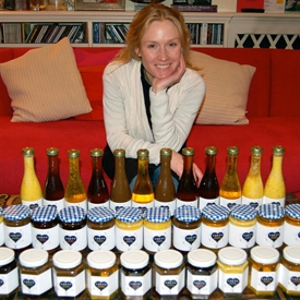 A busy mum to two young children, Lucy Mackenzie could have been forgiven for snatching every opportunity to put her feet up. Yet, after deciding to take a well-earned break from what she describes as a "very intense job" as a London head hunter to spend more time with the family, the change of pace started her thinking up ideas for a business that could be run from home. She began making salad dressings in her kitchen after the children had gone to bed.  That was five years ago and today Lucy's Dressings are stocked in farm shops and fine food stores across Britain. 
"I always had a real passion for making dressings," says Lucy. "I was fascinated by the juxtaposition of flavours: oil, vinegar, salt and sugar; the blend of sweetness and sharpness intrigued me." 
Lucy grew up in Suffolk and it was there that she discovered Hillfarm cold pressed rapeseed oil. "It had an amazing nutty, buttery flavour. I saw the health benefits [rapeseed oil has half the saturated fat of olive oil, 11 times the natural Omega 3 and more vitamin E) and decided to pull together a whole load of amazing ingredients from Suffolk to make a dressing." 
And so Lucy's Dressings was born. Two of the first products – Great Golden and Zesty Mayo - were made with Hillfarm's rapeseed oil (and still are), as is Light Asian. The others are created with extra virgin olive oil, carefully sourced from Greece, as the lighter flavour is more suited to the fine-tuned flavours of the recipes. 
Lucy made her first batch of dressings in jam jars and although the idea of shaking the contents to mix them was well received, she reacted to feedback about leakage by switching to the bottles she uses today. She and a friend worked on the branding, her sister-in-law created the website and the fledgling range was soon all set to makes its first appearance on the food  scene – at the renowned Aldeburgh Food and Drink Festival in 2010, as it turned out. And there came Lucy's lucky break, in the form of a buyer from Selfridges, who tried her dressings and liked them. So much so that four months later Lucy's Dressings were launched at the prestigious Oxford Street store.  "I was seven and a half months pregnant," she recalls. "Standing there for the launch I was aware of customers looking at me as if I were completely mad." 
The timing may not have been ideal but, as Lucy understandably "took [her] foot off the gas for a while" after the birth of third child, Isla, the dressings were gradually becoming established in a handful of high-end stores. Then, two years ago, once Isla had celebrated her first birthday, Lucy was able to turn her attention back to her fledgling business. She recalls, "I started giving it a little more focus and that's how it all was seeded, and now our mission is to get into every farm shop, indie store and deli, where people really care about the quality of the ingredients." 
As demand for the range continues to grow, Lucy is no longer able home produce in the family kitchen, but moving production to a third party has not impacted on quality or integrity.  "The products are still made in very small batches and I'm very hands on; I check every batch," she is emphatic to point out. 
There are now eight dressings and three condiments in the range, and they boast no fewer than six Great Taste Awards. The latest additions to the collection are three new 'Slim' dressings.   
"I developed those because I am into health and fitness and saw an opportunity," says Lucy. "A lot of the low fat dressings on the market are very high in sugar, which can be almost worse for you – what you need is good fat and low sugar, and that's what the Slim range offers;  lower calories and lower sugar while still tasting really good."
As a multi-tasking working mum, Lucy understands the importance of saving time in the kitchen without compromising on quality. "My products are really meant to be a short cut for people who love their dressings but don't always have time to make them themselves. People who are good cooks buy them," she says proudly. 
The kitchen certainly sounds like the heart of the Mackenzie home and Lucy describes her children as "mad about food." She goes on to reveal that her father-in-law is Nigel Mackenzie, the former Sussex restaurateur who invented the Banoffee Pie some 30 years ago.   
Lucy's Dressings have come a long way in just five years and their creator admits she could not have imagined herself creating a thriving food business which now supplies some 500 retailers. "I thought that I would stick with head hunting but do it from home, but it's a great journey and very exciting," she confides. 
Well, as far as we're concerned, Lucy is certainly shaking it up when it comes to great tasting dressings.
Recipe - Lucy's Zesty Mayo salmon with rice and asparagus
Holwood Farm Shop stocks a range of Lucy's Dressings and you can try before you buy at Lucy's stall at our Festival of Food on 7th June 2015.
Tags:
Add Pingback