Holwood Farm Shop and Deli offers foodies a true taste of the 'Garden of England'.
Call us 01689 638381 
Just desserts: Yummy Cheesecakes
Jan 12, 2016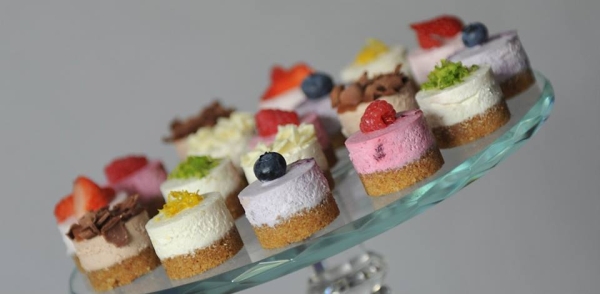 For many of us, there's no dessert that satisfies a sweet craving quite like an indulgent cheesecake, and here at Holwood Farm, it's the Yummy Cheesecakes made by Mark Rhodes and Ebru Ince that get all the attention. With their light, mousse-like texture and amazing range of flavours, it's not hard to see why Mark and Ebru's creations are such a hit, even if it might not have been what they expected to be doing.
"It sounds crazy, but I don't even like cheesecake that much," Ebru confesses, laughing. Ten years ago, she and Mark had a food trailer from which they prepared all kinds of made-to-order dishes for weddings and shows. "I'm Turkish, so we were making Turkish food, and Chinese, Italian ... But then the recession hit, and people wanted a lot of money for a pitch," she explains. "The cheesecakes had already proved so popular that we decided to streamline."
That was back in 2010, and since then Yummy Cheesecakes have become known amongst dessert aficionados for their uniquely light recipe which sets them apart from other cheesecakes. "When we started making them, we weren't even sure we could call them cheesecakes!" Ebru recalls. "Ours are more of a mousse." Mark insists there's no secret recipe, just a few good, fresh ingredients. "I think perceptions have been distorted as to what a good cheesecake is," he says. "We don't use any eggs or setting agents, no artificial rubbish or additives. Just pure cream cheese, a cream alternative, fresh fruit and good-quality chocolate." Although the cream alternative is lower in fat than regular cream, Mark and Ebru actually use it to make their cheesecakes more indulgent, because it mixes better with alcohol.
And they're certainly not shy of experimenting with a good tipple – their flavours include Bailey's and White Chocolate and Mocha Maria, a decadent combination of Tia Maria, Bailey's and dark chocolate, and festive specials have included Mulled Wine and Amaretto. At any one time, Mark and Ebru are making around 25 flavours (although that's down from a peak of 35, Mark notes) and they're always working on new ideas, at the moment for Valentine's Day. "When we first started we were based in Nottingham," says Ebru. "We made appointments to go to restaurants and cafes, and some asked for special flavours." The bespoke service included supplying green tea cheesecakes to a Japanese restaurant, and an Indian restaurant that wanted a cardamom flavour.
It's clear that they take great pleasure in coming up with new ideas, even though some of the best sellers are classics like Madagascan Vanilla and Zingy Lemon. But as Ebru says, running their own business is so intense that they have to make it fun. Beyond cheesecake, Mark and Ebru also make gorgeous profiteroles, tiramisu and chocolate mousse, and when Mark's sister was diagnosed with coeliac disease, the pair devised a recipe for a gluten-free base so that she could continue to enjoy their creations. But they're not influenced by trends or food fads, and at present there are no plans to try making a 'diet' version. "Well," says Mark, "if people want a dessert, they want a dessert!"
Tags: dessert Yummy Cheesecakes
Add Pingback