Holwood Farm Shop and Deli offers foodies a true taste of the 'Garden of England'.
Call us 01689 638381 
Sussex couple's recipe for success
Jan 22, 2015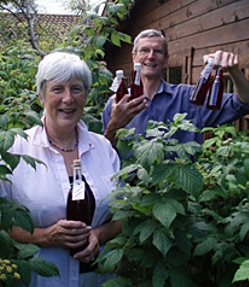 What would you do with a medlar? (a) Store it in sawdust (b) Leave it to rot (c) Make vinegar with it
Having chatted to medlar aficionado John Stratton, we can reveal the answer is ... all three. In fact, there's not much John and his wife (and business partner) Mary don't know about English fruits, herbs and botanicals. From bullaces to mulberries, tayberries to rosehips, a conversation with John is like going on a ramble with a genial and superbly knowledgeable guide. For he and Mary are the culinary geniuses behind Stratta, the splendidly imaginative range of infused vinegars, oils and preserves.
It turns out medlar, for instance, "is a member of the apple and rose family, a slightly awkward fruit" and that bullace is a "wild plum, bigger than a sloe and smaller than a damson."
It is nearly ten years since chef John gave up his job as a catering manager to join former teacher Mary in the business she had set up a year earlier. The couple now work together full-time, pouring their expertise into producing, selling and developing their artisan range from their Eastbourne base.
They started out selling through farmers' markets and fairs, and although the collection – which numbers 70 products, including seasonal limited editions - is now available in selected farm shops and delis in the South East, John and Mary stay true to their roots and continue to pitch their stall at markets.
"More than anything else, what has kept us going to farmers markets, tastings and events is that we're constantly discovering wonderful uses and pairings," explains John. "Feedback is very important to us. For instance, one customer dipped her bread in the Chilli Oil and then into the Lavender Vinegar and remarked what a wonderful combination it was for a dressing. We now regularly make just such a combination, 'Lavilli'. The sweetness and floweriness of the lavender and the heat from the chilli are quite extraordinary – try adding couple of drops to pan-fried scallops."
New sources of ingredients can also turn up at markets – one customer now provides hips from his ancient rose bush that are just right for Stratta Rosehip Vinegar, while John's and Mary's own Gertrude Gekyl roses – "that species because the rosy flavour and the aroma carry through well" - provide the key ingredient for Rose Petal Vinegar.
Sourcing begins in the couple's own backyard. "We have a fennel forest near the raspberry patch, and the neighbours are used to seeing us climbing all over our black mulberry tree harvesting the fruit before the birds get to it," confides John. However, beyond the garden wall, they tap into a variety of sources, from friends' gardens to local farms and old orchards.
With a seasonally changing selection, it can be hard to pinpoint bestsellers, but John singles out favourites such as the Great Taste Award winning Raspberry Vinegar (of which more anon) followed by Redcurrant Vinegar and Black Mulberry Vinegar. Over in the oil department, it has to be Smoky Moroccan ("Mary created it – it echoes harissa") followed by the Chilli, the Lemon and the Herbes de Provence. Their amazing Salt Preserved Lemons head up the fruit bestsellers list, while Pickled Garlic, Spiced Oranges and festive special Spiced Pears are all top of the Stratta pops.
Seasoned judges at the celebrated Great Taste Awards (known as the Culinary Oscars), the Strattons are themselves regularly on the receiving end of awards and now have 24. Stratta Black Mulberry Vinegar picked up a prestigious 3 Star Gold in 2014, while in 2011 they were awarded the supreme accolade of the Golden Fork for Best Ambient Product for Raspberry Vinegar. An amazing achievement.
"We always thought it was good but it was an absolute delight to have someone else say so – the award doubled the sales of Raspberry Vinegar which carried into other products as well," says John.
However, although clearly chuffed with the win, he and Mary have no big ambitions to turn Stratta into a major, national brand or – perish the thought – begin supplying supermarkets. Their plans are to "produce more of the same and to continue to introduce new products, including more savoury vinegars, and to continue to seek feedback."
John also reveals another dream. "We want to write a recipe book of sorts."
It's an interesting turn of phrase, 'of sorts', but we think we know what he means – just like Stratta products, it will be unique, deliciously quirky and infused with the flavours of a bygone age. Hip hip hurray!

Tags: Stratta oils infused vinegars preserved fruits
Add Pingback
---
Category List
---
Tag List
---
Archive
---
Latest Posts
Recipe suggestions from chef John Stratton
Sea bass is fantastic brushed with stratta fennel infused olive oil then simply grilled or pan-fried.
Oven baked white fish, eg. pollock or hake with shavings of stratta sea salt preserved lemons, black pepper corns, couple of bay leaves, knob of butter and a splash of white wine. Place all the ingredients in a Pyrex dish and bake until done.